Yes, it's that time of year again! The Christmas shopping season is upon us! And the age-old question is this: What do you get the person who has everything and doesn't need anything?
Well, why not consider a lovingly handcrafted Christmas ornament?
Why you may ask? Here are a few reasons why.
1. It's seasonal. For the person who has everything, they don't need another thing to have on hand all year round. A Christmas ornament can be displayed once a year at the holidays and stored away for another year. No pressure to find a place for it in their home, or find use for it all year long. But it invokes wonderful memories at Christmas when it's hung on the tree.
2. Make it personal. Choose the ornament you give wisely. If done correctly it will be highly personal to the one who receives it. Here are some ways to choose:
Style. An ornament that matches their decorating style says, I know you, I know what you like and I put a lot of time and effort into this gift
Memory. Choose something that brings back a memory you share together. A personalized photo ornament, an ornament that features a location you have traveled to, or a special date in your lives.
3. Choose Handmade. Buying a handmade ornament or making one yourself, also says, "I really took the time to think about you and this gift I wanted to give." (See the end of this blog post for an easy handcrafted ornament project you can do at home.)
So, to help you on your journey, here are a few handmade ornaments you can consider purchasing. These are all available on Etsy, where you can shop for unique, handmade, vintage gifts from small business owners. When you shop on Esty, you fuel the creativity and dreams of a shop owner.
• Personalized Wood Burned Ornament
• Acrylic Pour Painted Ornament
• Personalized Map Ornament
• First Home Ornament
• Handpainted Home Ornament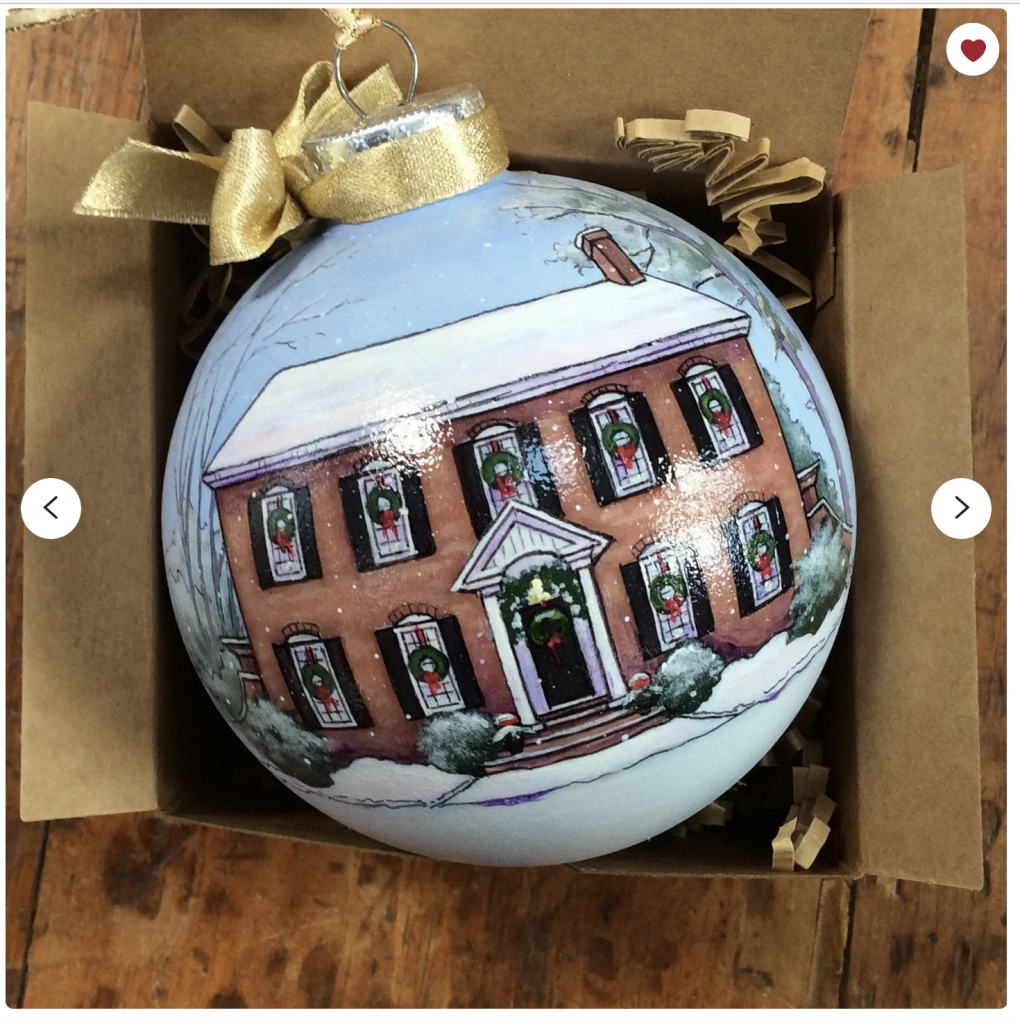 MAKE IT YOURSELF
For a quick do-it-yourself idea, all you need are live edge birch wood rounds from your local craft store, some black, red, or green paint, a white paint pen or gel pen, a drill, and some twine.
Step one: Drill a hole large enough for your twine to fit through as a hanger
Step two: Paint a colored circle on your wood round (Let dry)
Step three: draw or write your desired design on the painted circle
Step four: attach your twine and you are all set!
Good luck in all your holiday shopping and crafting!
It is that time of year! Time to figure out what to do with all your photos from this year. The ones from vacation, the ones from sporting events and day trips, the ones from holidays last year and so much more!
See the galleries below for some of my favorite ideas from www.zazzle.com. I hope this helps get your creativity flowing!
Christmas Cards
Photo Calendars
Gift Ideas
I hope this gallery of images inspires you and gives you creative ideas of how to use all those photos you take each year! A personalized photo gift will convey the thought and love that went into the gift you are giving that special someone.
My line of DIY Valentine's Day printables is featured on WeddingLovely's blog today and I wanted to make sure I shared that post with all of my loyal readers!
It is very exciting to have my items in front of so many possible customers and right before Valentine's day no less!
It would be awesome if a few of my loyal readers could stop by the WeddingLovely blog and leave a comment or two about the feature!
My inspiration behind these Valentine's Day DIY greeting cards, gift tags and mason jar wraps sold on Etsy is to provide my customers with an affordable and simple way to celebrate Valentine's day with their loved ones. Be it your spouse, your children, a sister or a friend, these DIY downloads allow for anyone to create an affordable Valentine's day gift for someone they care about.
These affordable gifts range from mason jars filled with Red Hots and labeled with our Happy Valentine's Day wrap and "I have the hots for you" gift tag to our "I love you to the moon and back" celestial Valentines Day greeting card, all do it yourself projects that are affordable and simple to complete.
Click on the image to visit my Etsy store and shop today!
For more DIY tutorials, wedding inspiration and inspirational musings visit www.bethericksondeisgns.com/allthingscreative.
Monday • November 27 • Cyber Monday
Scents for the home, body & laundry
Today is the perfect day to do some online Christmas shopping, with just about everyone running a Cyber Monday sale. You're sure to find what you need at a great price!
One site to check out would be www.usarmyband.scentsy.us run by a local business woman. Heather Gregory is ready to help you find the perfect Christmas gift. By shopping Scentsy you support small businesses and families.
I don't know anyone who doesn't use candles or scented wax with a warmer to make their house smell wonderful! But Scentsy is even better than candles, with no smoke, it keeps the air in your home clean and healthy to breath while making your home smell wonderful.
They also sell items beyond wax warmers, like laundry liquid and washer whiffs to make your laundry smell good too. Along with body scents, cleaning supplies and gift ideas for the kids!
Make sure you check them out today and support a local business!
This is our last gift idea in this series and I hope it has inspired you to start your Christmas shopping. Remember to SHOP SMALL & SHOP LOCAL first if possible and support local famililes at the same time! Happy Holidays!
Sunday • November 26
Small Pocket Wallet
Do you know someone who never carries a purse, complains their wallet is too heavy or who likes to throw some money and credit cards in their pocket and head out the door. If so, one of these fabric credit card holders would be perfect for them, lightweight and small enough to fit in a pocket. They come with the option of two or four pockets and they are perfect for a stocking stuffer or to mail. Shop here: Two Pocket & Four Pocket.
Tomorrow is our last day of the series and we are featuring a local family run small business so make sure you come back to find out who it is!
Saturday • November 25
Roadside Safety
Is there a teenager in your life that has just started driving or is about too? A roadside emergency kit would be the perfect gift for them. Its keeps them safe and makes you feel better about them driving. Search Amazon, Google or shop local retailers and your sure to find what your looking for.
Day 6 tomorrow, don't forget to stop and see what it says!
Friday • November 24 • Black Friday
Handmade Kitchen Linens
Do you know someone who loves to cook? Do they use cast iron skillets or often put their frying pan in the oven. These little skillet handle covers make a great gift or stocking stuffer! Check them out here.
A few other great gift idea for the chef or cook in your life is a reversible potholder/trivets. Handmade and machine quilted. Click here to shop now. Or a microwave potato bag, sold here.
See you tomorrow for day 5!
Thursday • November 23 • Happy Thanksgiving
Movie Night
A movie night out or a movie night in, this gift basket is sure to please anyone from a dating couple, teenagers to a family of four or more! There are several ways to accomplish this fun gift.
Movie Night In: Purchase a popcorn bowl, gourmet popcorn, movie sized boxes of candy and include a gift card for a rental or movie purchase. For gourmet popcorn from a family run business visit Dell Cove Spices. Include a personalized popcorn bowl like the one above from EarthlyChic.
Movie Night Out: Package a theater gift card, restaurant gift card and some candy together in a cute little bag or box! Perfect for the one the go family or couple.
Stop by tomorrow to see what's in store for day four!
Wednesday • November 22
Christmas Ornaments
I love to give my stepsons a Christmas ornament each year, chosen just for them. It's a fun way to make memories and it also means they will each of a small collection of ornaments to take with them when they move into their own place.
You can find Christmas ornaments as unique as the person your giving it to. From themed to personalized, Etsy has it all.
The ornaments pictured here come from these two shops on Etsy: Kute Kustom Kreations and Roz Petalz Studio.
See you on Thanksgiving for day three in The ART of GIVING!
Life has seemed to take off and I have just simply not had time to write any blog posts and now we are deep into the holidays with Thanksgiving upon us and Christmas shopping. I just finished with my final craft fair of the year and now I seem to have a little bit of time on my hands and started thinking about Christmas the art of giving and how it makes someone feel when you come up with perfect gift to give them. I have compiled some ideas and will be sharing them over the next seven days. Since we have Black Friday and Cyber Monday coming up, now is the perfect time to share them with you. Maybe I will come up with some more ideas after the first seven days. We shall see. Here is today's to kick start the series!
Tuesday • November 21
Mason Jar Tumbler
These Mason jar tumblers make the perfect vessel for a gift full of surprises. They boast a handmade reversible mason jar cozy and a silicone lid to drink from. Coffee, tea and water all taste better if served in glass! Fill it with candy, gift cards, nail polish, and packages of peanuts, tea, coffee and more, to give a gift as unique as the person you are giving it too. (CLICK HERE TO SHOP)
Look for our next gift idea tomorrow and for the next seven days. Do you have an Idea I should feature or want to share? Go ahead a post a comment! Until tomorrow!