Yes, it's that time of year again! The Christmas shopping season is upon us! And the age-old question is this: What do you get the person who has everything and doesn't need anything?
Well, why not consider a lovingly handcrafted Christmas ornament?
Why you may ask? Here are a few reasons why.
1. It's seasonal. For the person who has everything, they don't need another thing to have on hand all year round. A Christmas ornament can be displayed once a year at the holidays and stored away for another year. No pressure to find a place for it in their home, or find use for it all year long. But it invokes wonderful memories at Christmas when it's hung on the tree.
2. Make it personal. Choose the ornament you give wisely. If done correctly it will be highly personal to the one who receives it. Here are some ways to choose:
Style. An ornament that matches their decorating style says, I know you, I know what you like and I put a lot of time and effort into this gift
Memory. Choose something that brings back a memory you share together. A personalized photo ornament, an ornament that features a location you have traveled to, or a special date in your lives.
3. Choose Handmade. Buying a handmade ornament or making one yourself, also says, "I really took the time to think about you and this gift I wanted to give." (See the end of this blog post for an easy handcrafted ornament project you can do at home.)
So, to help you on your journey, here are a few handmade ornaments you can consider purchasing. These are all available on Etsy, where you can shop for unique, handmade, vintage gifts from small business owners. When you shop on Esty, you fuel the creativity and dreams of a shop owner.
• Personalized Wood Burned Ornament
• Acrylic Pour Painted Ornament
• Personalized Map Ornament
• First Home Ornament
• Handpainted Home Ornament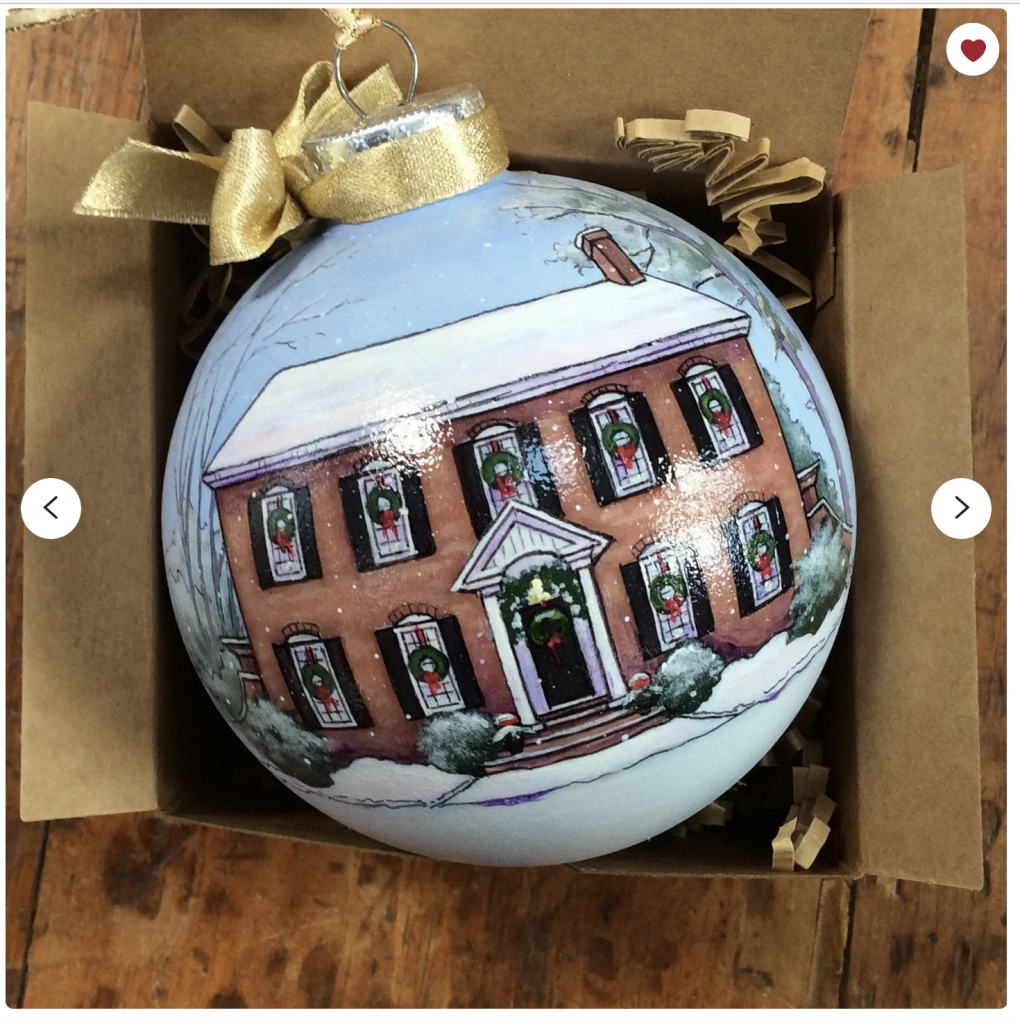 MAKE IT YOURSELF
For a quick do-it-yourself idea, all you need are live edge birch wood rounds from your local craft store, some black, red, or green paint, a white paint pen or gel pen, a drill, and some twine.
Step one: Drill a hole large enough for your twine to fit through as a hanger
Step two: Paint a colored circle on your wood round (Let dry)
Step three: draw or write your desired design on the painted circle
Step four: attach your twine and you are all set!
Good luck in all your holiday shopping and crafting!
Wow, I don't know how many months it has been since I have sat down to write, but I think it has been at least three or four. I am not sure where time went, except that we moved to a new home that is a little farther from everything and so the routines of daily life just eat up a little more time than they used to. Its also gardening, lawn mowing and sitting on the patio season, which of course all take up time that was used for other things during the winter months. I have to say though I am so happy to see the sun more often these days!
All this talk about time leads me to my topic for today, simple Father's day gifts. You don't have to spend a lot of money or time to make the dad's in your life feel special and appreciated. So I have come up with a few gift ideas that are easy to accomplish. Two of them you can make yourself, the other's you can purchase from this great website Zazzle, that allows you to personalize almost anything you can imagine.
We will start with Zazzle and then move on to the super simple DIY Father's day appreciation gift that is sure to bring a smile to any dad's face.
Zazzle is a website that allows you to personalize a very large variety of things. They have mugs, aprons, poker chips, USB drive, golf balls, baseballs and much more!
Here are a few of my favorites for Dad! (Clink the photo for more information or to order)
For the cook:
For the hat lover:
For the Musician:
For the coffee lover:
For the technology lover:
There are a lot more ideas on Zazzle, but I don't have the room to list them all. You should go check them out for yourself and find the perfect gift for your dad or make one of our super simple DIY gifts below.
Our DIY gift only requires you to purchase candy and a jar of some sort unless you have one sitting around the house and an instant download from Etsy, to print at home and decorate your jar.
Jar #1: We love you to pieces or I love you to pieces (Purchase)
Supplies needed:
Jar #2: You're a peach! (***Please note the typo on the tag for "You're a peach" has been fixed in the downloads 6/16/17)
Supplies needed:
NEW!!! Jar #3: You're a Barrel of fun (Purchase)
Supplies needed:
The steps to complete this project don't take much time at all.
Step One: Print your instant download and trim to size
Step Two: Fill your jar with the appropriate candy and close with lid
Step Three: Tape or glue your jar wrap around your jar
(***Please note the typo on the tag for "You're a peach" has been fixed in the downloads 6/16/17)
Step Four: Punch a hole in your gift tag and attach it to the top of your jar with string or twine
And you're done! Your Father's Day gift is ready to go, with little money, time and stress spent on the project! Also check out our other Father's Day labels on Etsy. (Click the pictures below for more details.)
Enjoy the holiday and celebrate your dad!
Gifts that give back!
What has Christmas become in your home? Is it all about what you can get instead of give? What do your children think Christmas is all about? I have really been thinking a lot about this lately. I am not perfect in this area, so please don't feel like I have got it all together. I mean I already have a list on my fridge of gifts that people can get me!
The truth is Christmas in not about getting, it's about giving! So, what if the perfect gift could also give back to someone one in need? What if it could support a family in a third world country, save someone from sex trafficking, support a village in need, provide clean water, help a single mom or the family next door.
I am making it my goal this year to have my gifts help others. It may not be possible for each and every gift I give to do this, but I know it's possible for some of them to help others.
I want Christmas to mean something more than just getting. I want it to be about serving, sacrificing, loving and caring about others. I want my gifts to say, I thought of you when I saw this and I wanted to support someone in need.
In the hopes that you will join me in this endeavor this year I have complied a list of places where yo can purchase gifts that give. I have included each organizations mission statement or description as found on their website. Please understand that I have just skimmed through their websites to see what their mission statements say. Please do your own research and make sure you fully support the organizations goals before purchasing.
Prodigal Pottery, www.etsy.com/shop/prodigalpottery
Prodigal Pottery started from the dream to create jobs for women fleeing homelessness and domestic abuse in a safe and therapeutic environment. Kings Home is home and safe haven to over 50 women who are seeking hope and restoration from pasts riddled with abuse and homelessness.
Mudlove Pottery, www.mudlove.com
Through our partnership with Water for Good, every product you purchase provides one week of clean water to someone in need. The Central African Republic is a country in desperate need of hope, love, and basic necessities. Access to safe, clean water has the power to transform communities and save lives.
Mercy Jewelry, www.etsy.com/shop/mercyjewelry
M.E.R.CY Jewelry is a ministry that exists to provide the women a life with dignity. Through this ministry, they hear about Christ's love and His healing
Threads worldwide, www.threadsworldwide.com
Creating life-changing work for women around the world through the fair trade of artisan jewelry.
Love Sees Collection, www.etsy.com/shop/loveseescollection
Love Sees Sterling Silver and Gold Vermeil Jewelry with Love Phrases! The Gift that Gives Back. 10% of proceeds donated to teen suicide prevention and awareness.
Bead for life, www.beadforlife.com
Creating sustainable opportunities for women to lift their families out of poverty by connecting people worldwide in a circle of exchange that enriches everyone.
Feathers & Grace, www.etsy.com/shop/feathersandgrace
We have a profound & beautiful purpose here at Feathers & Grace: To Celebrate, Encourage, Love, and Cherish every beautiful life! With every purchase, you are helping make a beautiful difference in the lives of children and families around the world!
Live Love Studio, www.etsy.com/shop/livelovestudio
We have a big passion to spread goodness to the world in a tangible way. With each purchase, you are providing ONE MEAL to a hungry tummy in East Tennessee Appalachia, through the efforts of Second Harvest Food Bank.
Purpose Jewelry, http://www.purposejewelry.org
Purpose jewelry is handcrafted by survivors of modern-day slavery. 100% of the proceeds benefit International Sanctuary, a non-profit that provides holistic care for young women rescued from sex trafficking.
Mercy INK, www.etsy.com/shop/mercyink
Mercy INK is happy to support the ministry of Restore Elikia, a non-profit in the Democratic Republic of Congo.
Ten Thousand Village, www.tenthousandvilaages.com
Every purchase improves the lives of makers by supporting their craft and providing a fair, stable income.
Gifts With Humanity, www.giftswithhumanity.com
Gifts With Humanity is a brand of Global Crafts. Our mission is to offer income-generating opportunities to craftspeople in developing countries by following fair trade practices including paying in advance at least the market price for items, ensuring that craftspeople receive payment, and ensuring that the craftspeople work in fair working conditions. We work directly with artisans, craftspeople, and producer groups to achieve these goals and hopefully help improve the lives of some of the people with whom we share this planet.
Cross Culture Market, www.crossculturemarket.org
Cross Culture Market buys hand-made crafts from native artisans through Christian missionaries and humanitarian organizations. We sell these unique products in our store and online at www.crossculturemarket.org. You can find jewelry, home decor, purses, body products, holiday decorations, stationery, gourmet foods and other gifts made in every corner of the globe on our shelves!
serve, www.serrv.org
Serrv is a nonprofit organization with a mission to eradicate poverty wherever it resides by providing opportunity and support to artisans and farmers worldwide.
Earth Divas, www.earthdivas.com
Earth Divas, a fair trade company that is 100% focused on providing women in the developing world opportunities to earn a decent wage. We are unlike most businesses in that we exist not to make a profit. Our goal is to pay artisans as much as we can, and if we do show a profit, we give 100% of it to the artisans.
My own Etsy site, www.bethannerickson.etsy.com has a handful of hand beaded snowflake Christmas ornaments, three dollars from each ornament will go to Women of Purpose, Camano Island Chapter, who help bring life, hope and opportunity to women and children in developing countries. Currently this group supports a village in Southeast Asia. Through their financial support, the village of Thongkouang will be transformed into a thriving, self-sufficient community with healthy, safe, educated children. Women of Purpose also supports child protection work in Asia. Both of these programs help to prevent the human trafficking of women and children.
This list just scratches the surface. There are many more places you can purchase gifts that give. A simple google search will give you places to shop right at your fingertips. If you purchase from one of the organizations listed here, please mention you read about them on my blog! Happy Christmas shopping! "He is the reason for the season!"
Sign up to receive my blog in your in-box each time its published, see the side bar to the right!