Guest Post by Shelini Kalladeen (www.smarteamom.com)
It's been way too long since I've been involved in a giveaway, so when the perfect opportunity came along to collaborate I was super excited. The giveaway collection of items hit a few really important points - first, some good tea blends to either start or finish your day, second, eco-friendly options to share with fellow tea lovers, and third, something fun and sweet to add to your tea time experience. Let's start by setting the stage. There are many ways to enjoy teas, whether you prefer tea bags or loose leaf tea. While I use both, I would say the good majority of my tea stash is loose leaf tea, for a variety of reasons. Generally, you get a better value with loose leaf tea and you can control the intensity of your brew. Having said that, there are also many ways to infuse tea as we know. I've used various teapots, infusers, and disposable tea bags. Today I'm presenting yet another option to you with these adorable handmade, eco-friendly, reusable 100% muslin cotton tea bags made by Beth Ann Erickson Designs. They come packaged with an optional carrying case or as part of a gift set and are super easy to use. I've already easily washed and reused mine several times. My recommendation with using these is that you use a teaspoon or smaller scoop to put in your loose tea into the bag to avoid spillage and to make sure you leave room for your tea to expand. I used mine for both an herbal blend and a chai, and the tea bags steeped them perfectly, with minimal leaf spillage. The button detail on these tag bags is also super cute and very homey and cozy. Give these a shot, or consider them as a gift for the tea lover in your life! The designer, Beth Ann Erickson, lives a life with a passion for creativity. Her most recent passion is to create eco-friendly, zero waste products (such as these tea bags) that improve the lives of her customers and help care for the earth.
Next, the honey! I've used honey sticks before and enjoyed them, but the assortment of flavors offered by Sweet Summer Farms is amazing! Flavors such as mango, root beer, and caramel were really unique, and the boys and I had so much fun trying them. I'd recommend using the flavors to complement the tea you are using, so the chocolate with a black tea would be amazing, or the lemon with an herbal blend to enhance those flavors. It's such a fun mix of flavors, I'd gladly get these again for the fun and variety. The honey sticks are 100% natural, gluten-free, and kosher. Each stick is 1 oz and approximately 15 calories of amazing nutrition and fun flavor! What's even cooler about this purchase is 10% of proceeds go to first responders for PTSD through horse therapy.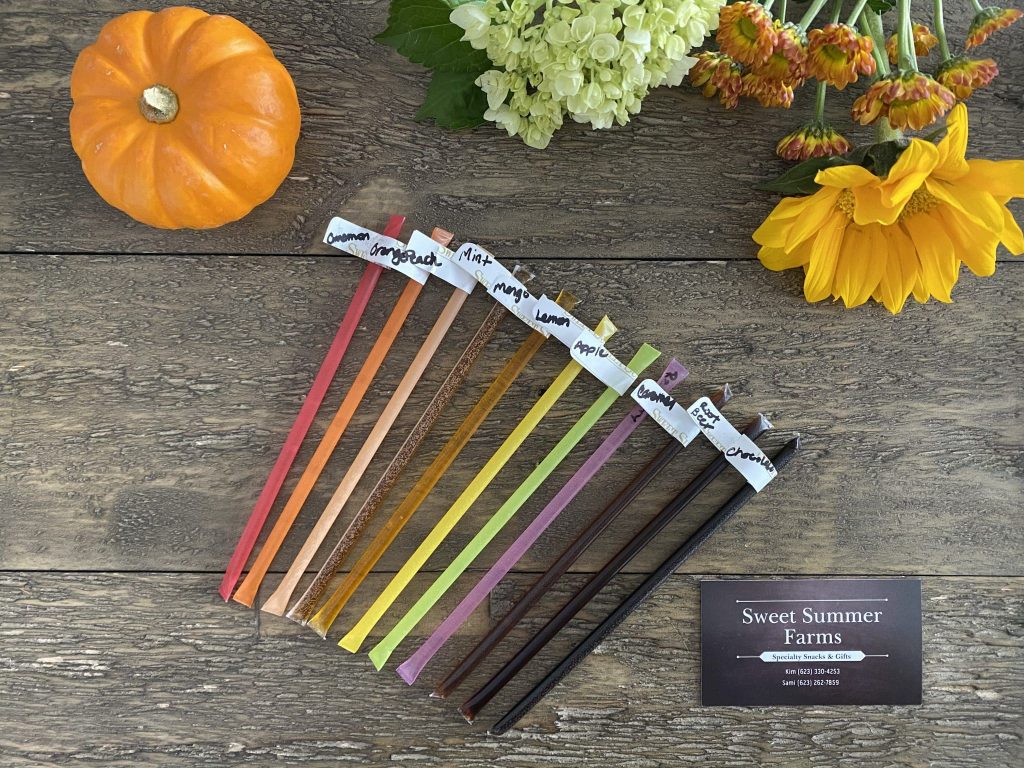 Now that the stage is set, onwards to tea. I started my day with a very flavorful chai by Infinitea Herbal Blends. The blend is a black tea base with cardamom, clove, black peppercorn, ginger, and cinnamon. I could taste each of those ingredients in this robust blend - and I loved it! The clove is strong in this blend, and I think it would hold up to milk really nicely if that's how you enjoy your tea. For me, a drop of honey set this right where I needed to be - fragrant, hot, and a bold way to start the day! I love that you can see all of the whole spices in this tea and that there are no artificial flavors.
To close the day, I sipped on Infinitea Herbal Blends - Deep Sleep Herbal tea. The tea contains chamomile flowers, lavender buds, passionflower, valerian, skullcap, and peppermint. Once again, I think this blend was lovely, and I really enjoyed the lavender in this tea. I added a bit of lemon honey and it really elevated all of the herbal flavors as well as added a sweet touch to the cup. Infinitea Herbal Blends is a black, female-owned company based in California, run by a young, ambitious mother in hopes to spread love, presence, and good health. Well done on these blends mama, I'd say mission successful!
I hope each of you enters this fun, fall tea gift set giveaway! I enjoyed each of the products included, and I am sure you will too. Cheers!
Giveaway Details
Win a TEA GIFT SET from @ericksondesigns, @sweetsummmerfarms, and @infinitea_herbal_blends! This gift set contains a mug and reusable eco-friendly tea bags designed by @ericksondesigns, a set of assorted honey sticks from @sweetsummerfarms, Chai, and Deep Sleep Herbal loose-leaf tea from @infinitea_herbal_blends. US residents only.
To Enter follow these steps:
Follow @ericksondesigns
Follow @sweetsummmerfarms
Follow @smarteamom
Follow @infinitea_herbal_blends
Tag two friends in the comments of the post @ericksondesigns
AND LAST: Fill out the form at (Link in @ericksondesigns bio) to have your name entered in the drawing https://bethericksondesigns.com/tea-gift-set-giveaway/ (Email address for mailing list is optional)
The contest is open from September 27- October 3, 2020. The winner will be announced on October 7, 2020. Only one entry per participant. You must complete all the steps to qualify for the giveaway. The winner will be chosen randomly and only one winner will be chosen. We will be using a random name picker platform to choose the winner. The winner will be notified via DM. Shipping costs will be paid by Beth Ann Erickson Designs. Prize valued at $41.99, no cash will be given. No purchase necessary.
Per Instagram rules, this promotion is in no way sponsored, administered, or associated with Instagram, Inc. By entering, entrants confirm that they are 13+ years of age, release Instagram of responsibility, and agree to Instagram's terms of use.
Hello my friends! Today I want to give you some steps to make your own pallet board distressed sign! You see them in all the home décor and craft stores. You look at them, you think about them, an then you say, "I could make that!" But do you ever take the time to do it? Well, I have finally done it and found it was a very simple process!
I recently decided that the light blue guest bathroom in my house should be decorated in a beach theme. Everything I have been seeing in the craft stores revolving around a beach theme contained colors that would blend perfectly in my bathroom and I love all the signs and sayings that go with the idea of the beach. But of course being a crafter, my first thoguht is "I can make that!" My first idea to begin my beach themed bathroom was to make a sign that says "Life is better in flip flops!" I love my flip flops. I am always sad when I have to put them away for the winter. So, this saying is perfect for me. I also love the rustic distressed pallet board signs you are seeing everywhere, so I decided to combine the two.
The following tutorial will guide you through all the steps to complete a distressed pallet board sign.
Supplies:
Small strips of wood (as seen in photos)
Wood Glue or Small Nail Gun
Chalk Paint in appropriate colors (I used Plaid Home Decor Chalk Paint from Hobby Lobby)
Paint brushes
Paint Pen (optional)
Vinyl Stickers (Optional)
Step One: Find pallets pieces you want to use for your sign, decide how much space you need and find boards that fit your needs.
Step Two: Sand your boards to remove rough edges and surfaces. Until you like the feel of them.
Step Three: Paint the boards with your chosen colors of chalk paint and let dry completely.
Step Four: Sand again in random areas to remove some of the paint on the corners and the middle of the boards to give it the "distressed" feeling.
Step Five: Attached the boards to one another using small strips of wood and a small nail gun or wood glue. (I purchased mine at the craft store and cut to size)
Step Six: Using a color that will stand out on your background color, paint your words using an appropriate brush or paint pen. Another option at this point is to purchase a vinyl sticker from an online vendor that is customized to your needs instead of painting your words or embellishments. I used a paint pen for my wording and purchased my flip flop sticker from Stickers by Stephanie on Etsy (www.StickersbyStephanie.etsy.com), which made adding an embellishment to my sign very simple! Stephanie's vinyl sticker worked great and was easy to apply. I felt her prices were reasonable and that she had a good turn around time. I would definitely purchase from her again. I chose to cut my vinyl sticker into two pieces so that I was able to position it better and it made applying it much easier. Make sure when you apply your vinyl sticker that the area is clean and free of dust. This will allow the sticker to adhere better.
Tip: When using a paint pen, depending on your colors you may have to go back over your wording several times until you think it is readable. My white paint pen was not showing up very well, so I continued to coat my letters until they stood out the way I wanted them too.
Step Seven: Attach your saw-tooth picture hanger to the back side and hang.
See its that easy! Seven simple steps and you have your own custom distressed pallet sign! Of course you could also just purchase one if you don't want to go to all that trouble. If so visit Lettera Nero Designs (www.LetteraNeroDesigns.etsy.com) or search on Etsy (www.etsy.com) to see some signs that are available.
Thank you for reading my blog and be sure to check out my Etsy store at www.bethannericksondesigns.etsy.com and follow me on Facebook, Instagram and Pinterest.
A Product Review
The art of making cold brew coffee is a simple task and very easy to accomplish at home. Especially if you have a cold brew coffee filter from CoffeeSock Co.! I received my cold brew coffee filter in the mail a couple of weeks ago and I have been trying it out ever since and my husband Michael has been enjoying the cold brew on his way to work in the mornings.
At first, I was unsure if I would like the cloth filter from CoffeeSock. In the past I have used cheesecloth to brew the coffee, which allowed for quite a bit of sediment to escape from the filter into the coffee and was a hassle to clean up in order to re-use the cheesecloth. I was worried I was going to have the same experience with this new cloth filter, but I was pleasantly surprised that this was not the case at all! CoffeeSock's filter was very easy to clean up and as far as sediment goes, there was practically none in the finished product!
The art of making cold brew is a very simple process and easy to do at home. First I would recommend that you visit, www.etsy.com/shop/CoffeeSockCo and purchase one of their cold brew coffee kits or if you already have a mason jar at home purchase one of their cold brew filters.
Next, purchase some whole bean coffee, regular or decaffeinated, I prefer dark roasts, and grind it at the store or at home to a coarse grind. Then place your coarse ground coffee in your CoffeeSock filter and wet the grounds so that they bloom. (CoffeeSock Co. also has these instructions on their packaging for you). Then, close the filter with the strip of fabric at the top by wrapping it around the top of the filter a few times.
At this point, place your filter in your mason jar and fill with cold water. I prefer to leave the glass ring hanging over the top of the jar, so that its on the outside when I close my jar. Another way to complete the process is to put the glass ring around the top of the filter and then submerge the filter in the cold water and put the lid on your mason jar.
Allow your coffee to soak for at least 8-12 hours, remove the filter and its ready to drink. Prepare however you prefer your coffee, cream, sugar, or flavored syrup. You can even microwave the cold brew if you prefer hot coffee. The benefit of cold brew is you get a smoother coffee than with hot brew.
CoffeeSock Co.'s reusable organic cotton DIY cold brew kit (www.etsy.com/shop/CoffeeSockCo) makes the perfect gift for the coffee lover in your life! Their kits are also the perfect start to one of our mason jar gift baskets, just add some coarse ground coffee, flavored coffee syrups, a shaker of vanilla or cocoa power and one of our mason jar wraps available at www.bethannerickson.etsy.com and you have a personalized cold brew gift basket ready to give. For more mason jar gift ideas visit our blog post The Art of Mason Jar Gifts.
I highly recommend CoffeeSock Co.'s organic cotton filter for yourself or a friend!
Bonus Idea:
By experimenting with my organic cotton filter from CoffeeSock, I found that I could brew a large batch of tea, using hot water and a mason jar to make iced tea. I used a berry flavored tea and then added some lemonade to sweeten and refrigerate. Perfect for the Mother's Day BBQ I hosted on Sunday. There are so many uses for your CoffeeSock organic cotton filter that its worth the purchase, even if you are not a coffee drinker!
Coming Next Week: Wedding Dreams: Coordinating the theme of your wedding.