Yes, it's that time of year again! The Christmas shopping season is upon us! And the age-old question is this: What do you get the person who has everything and doesn't need anything?
Well, why not consider a lovingly handcrafted Christmas ornament?
Why you may ask? Here are a few reasons why.
1. It's seasonal. For the person who has everything, they don't need another thing to have on hand all year round. A Christmas ornament can be displayed once a year at the holidays and stored away for another year. No pressure to find a place for it in their home, or find use for it all year long. But it invokes wonderful memories at Christmas when it's hung on the tree.
2. Make it personal. Choose the ornament you give wisely. If done correctly it will be highly personal to the one who receives it. Here are some ways to choose:
Style. An ornament that matches their decorating style says, I know you, I know what you like and I put a lot of time and effort into this gift
Memory. Choose something that brings back a memory you share together. A personalized photo ornament, an ornament that features a location you have traveled to, or a special date in your lives.
3. Choose Handmade. Buying a handmade ornament or making one yourself, also says, "I really took the time to think about you and this gift I wanted to give." (See the end of this blog post for an easy handcrafted ornament project you can do at home.)
So, to help you on your journey, here are a few handmade ornaments you can consider purchasing. These are all available on Etsy, where you can shop for unique, handmade, vintage gifts from small business owners. When you shop on Esty, you fuel the creativity and dreams of a shop owner.
• Personalized Wood Burned Ornament
• Acrylic Pour Painted Ornament
• Personalized Map Ornament
• First Home Ornament
• Handpainted Home Ornament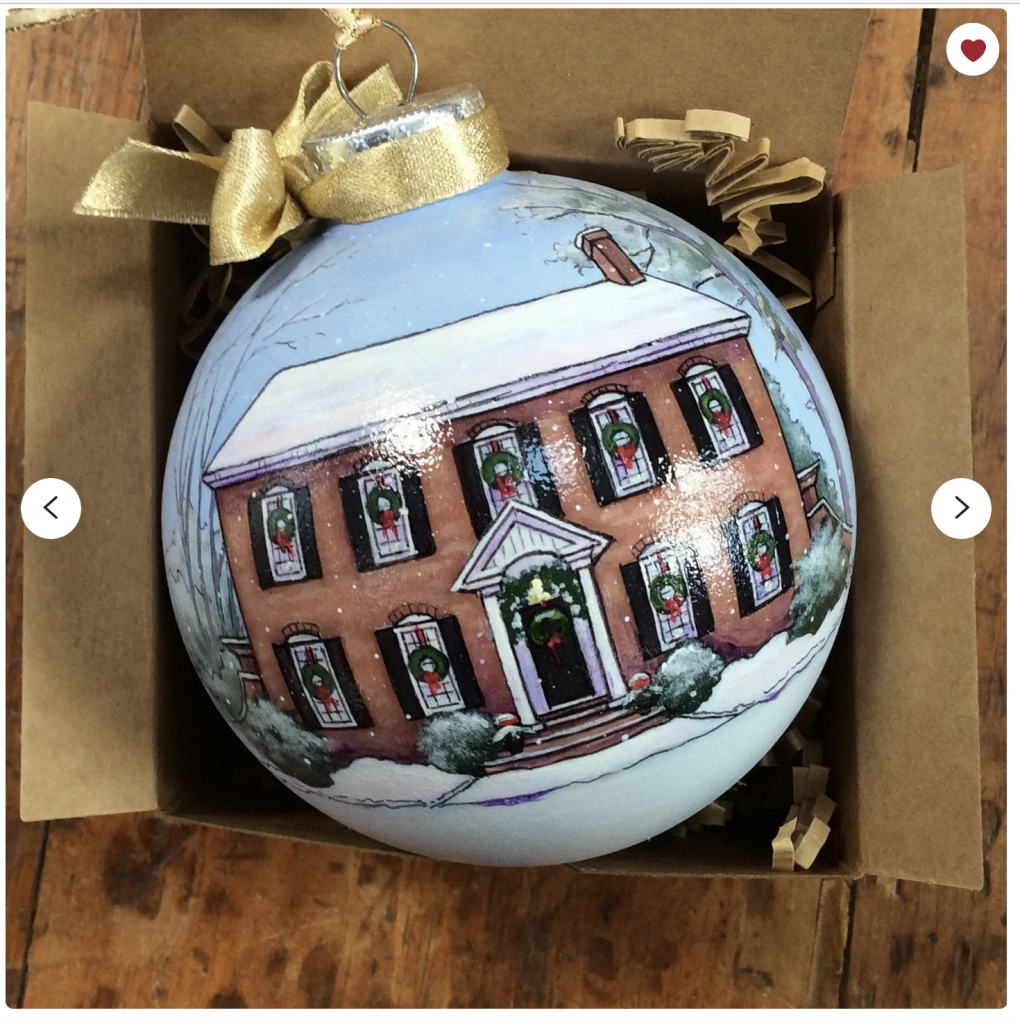 MAKE IT YOURSELF
For a quick do-it-yourself idea, all you need are live edge birch wood rounds from your local craft store, some black, red, or green paint, a white paint pen or gel pen, a drill, and some twine.
Step one: Drill a hole large enough for your twine to fit through as a hanger
Step two: Paint a colored circle on your wood round (Let dry)
Step three: draw or write your desired design on the painted circle
Step four: attach your twine and you are all set!
Good luck in all your holiday shopping and crafting!