Yes, it's that time of year again! The Christmas shopping season is upon us! And the age-old question is this: What do you get the person who has everything and doesn't need anything?
Well, why not consider a lovingly handcrafted Christmas ornament?
Why you may ask? Here are a few reasons why.
1. It's seasonal. For the person who has everything, they don't need another thing to have on hand all year round. A Christmas ornament can be displayed once a year at the holidays and stored away for another year. No pressure to find a place for it in their home, or find use for it all year long. But it invokes wonderful memories at Christmas when it's hung on the tree.
2. Make it personal. Choose the ornament you give wisely. If done correctly it will be highly personal to the one who receives it. Here are some ways to choose:
Style. An ornament that matches their decorating style says, I know you, I know what you like and I put a lot of time and effort into this gift
Memory. Choose something that brings back a memory you share together. A personalized photo ornament, an ornament that features a location you have traveled to, or a special date in your lives.
3. Choose Handmade. Buying a handmade ornament or making one yourself, also says, "I really took the time to think about you and this gift I wanted to give." (See the end of this blog post for an easy handcrafted ornament project you can do at home.)
So, to help you on your journey, here are a few handmade ornaments you can consider purchasing. These are all available on Etsy, where you can shop for unique, handmade, vintage gifts from small business owners. When you shop on Esty, you fuel the creativity and dreams of a shop owner.
• Personalized Wood Burned Ornament
• Acrylic Pour Painted Ornament
• Personalized Map Ornament
• First Home Ornament
• Handpainted Home Ornament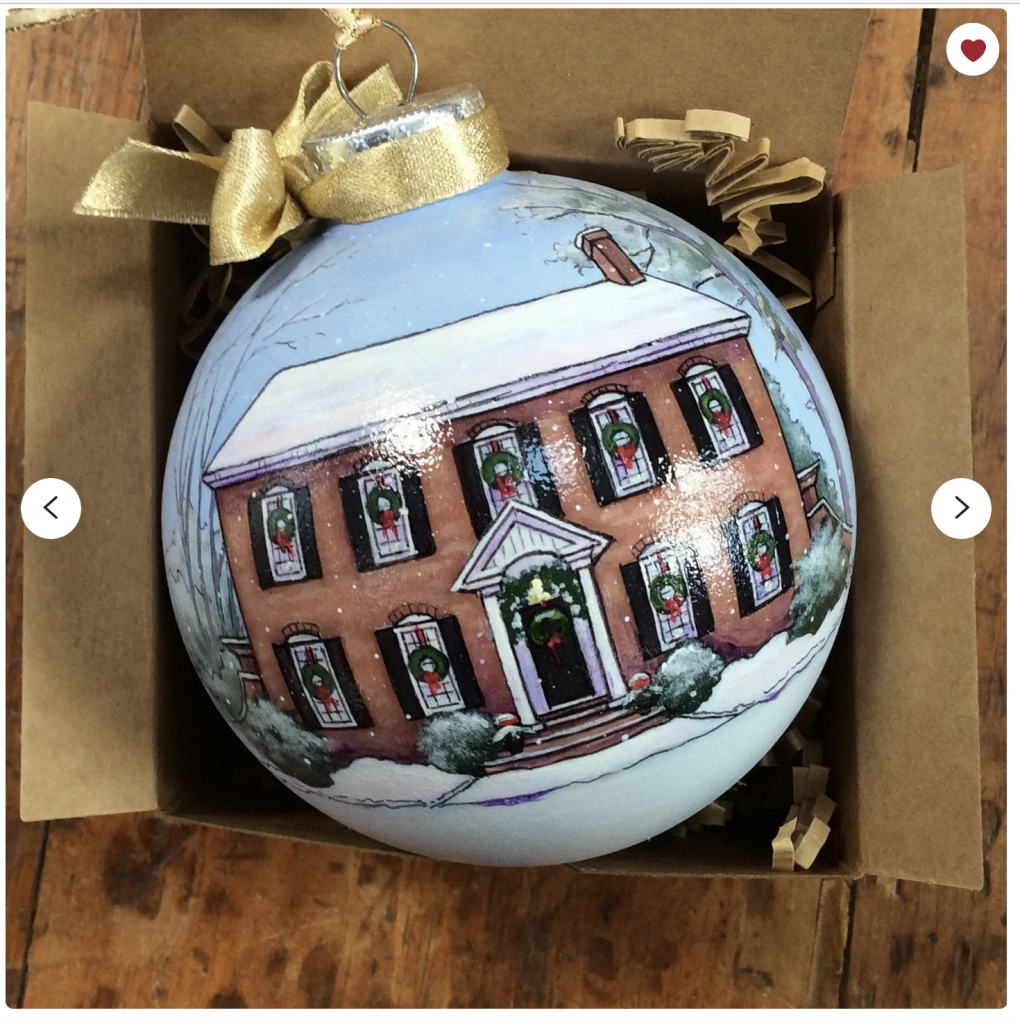 MAKE IT YOURSELF
For a quick do-it-yourself idea, all you need are live edge birch wood rounds from your local craft store, some black, red, or green paint, a white paint pen or gel pen, a drill, and some twine.
Step one: Drill a hole large enough for your twine to fit through as a hanger
Step two: Paint a colored circle on your wood round (Let dry)
Step three: draw or write your desired design on the painted circle
Step four: attach your twine and you are all set!
Good luck in all your holiday shopping and crafting!
Monday • November 27 • Cyber Monday
Scents for the home, body & laundry
Today is the perfect day to do some online Christmas shopping, with just about everyone running a Cyber Monday sale. You're sure to find what you need at a great price!
One site to check out would be www.usarmyband.scentsy.us run by a local business woman. Heather Gregory is ready to help you find the perfect Christmas gift. By shopping Scentsy you support small businesses and families.
I don't know anyone who doesn't use candles or scented wax with a warmer to make their house smell wonderful! But Scentsy is even better than candles, with no smoke, it keeps the air in your home clean and healthy to breath while making your home smell wonderful.
They also sell items beyond wax warmers, like laundry liquid and washer whiffs to make your laundry smell good too. Along with body scents, cleaning supplies and gift ideas for the kids!
Make sure you check them out today and support a local business!
This is our last gift idea in this series and I hope it has inspired you to start your Christmas shopping. Remember to SHOP SMALL & SHOP LOCAL first if possible and support local famililes at the same time! Happy Holidays!
Sunday • November 26
Small Pocket Wallet
Do you know someone who never carries a purse, complains their wallet is too heavy or who likes to throw some money and credit cards in their pocket and head out the door. If so, one of these fabric credit card holders would be perfect for them, lightweight and small enough to fit in a pocket. They come with the option of two or four pockets and they are perfect for a stocking stuffer or to mail. Shop here: Two Pocket & Four Pocket.
Tomorrow is our last day of the series and we are featuring a local family run small business so make sure you come back to find out who it is!
Friday • November 24 • Black Friday
Handmade Kitchen Linens
Do you know someone who loves to cook? Do they use cast iron skillets or often put their frying pan in the oven. These little skillet handle covers make a great gift or stocking stuffer! Check them out here.
A few other great gift idea for the chef or cook in your life is a reversible potholder/trivets. Handmade and machine quilted. Click here to shop now. Or a microwave potato bag, sold here.
See you tomorrow for day 5!
Wednesday • November 22
Christmas Ornaments
I love to give my stepsons a Christmas ornament each year, chosen just for them. It's a fun way to make memories and it also means they will each of a small collection of ornaments to take with them when they move into their own place.
You can find Christmas ornaments as unique as the person your giving it to. From themed to personalized, Etsy has it all.
The ornaments pictured here come from these two shops on Etsy: Kute Kustom Kreations and Roz Petalz Studio.
See you on Thanksgiving for day three in The ART of GIVING!
Life has seemed to take off and I have just simply not had time to write any blog posts and now we are deep into the holidays with Thanksgiving upon us and Christmas shopping. I just finished with my final craft fair of the year and now I seem to have a little bit of time on my hands and started thinking about Christmas the art of giving and how it makes someone feel when you come up with perfect gift to give them. I have compiled some ideas and will be sharing them over the next seven days. Since we have Black Friday and Cyber Monday coming up, now is the perfect time to share them with you. Maybe I will come up with some more ideas after the first seven days. We shall see. Here is today's to kick start the series!
Tuesday • November 21
Mason Jar Tumbler
These Mason jar tumblers make the perfect vessel for a gift full of surprises. They boast a handmade reversible mason jar cozy and a silicone lid to drink from. Coffee, tea and water all taste better if served in glass! Fill it with candy, gift cards, nail polish, and packages of peanuts, tea, coffee and more, to give a gift as unique as the person you are giving it too. (CLICK HERE TO SHOP)
Look for our next gift idea tomorrow and for the next seven days. Do you have an Idea I should feature or want to share? Go ahead a post a comment! Until tomorrow!
Wow, I don't know how many months it has been since I have sat down to write, but I think it has been at least three or four. I am not sure where time went, except that we moved to a new home that is a little farther from everything and so the routines of daily life just eat up a little more time than they used to. Its also gardening, lawn mowing and sitting on the patio season, which of course all take up time that was used for other things during the winter months. I have to say though I am so happy to see the sun more often these days!
All this talk about time leads me to my topic for today, simple Father's day gifts. You don't have to spend a lot of money or time to make the dad's in your life feel special and appreciated. So I have come up with a few gift ideas that are easy to accomplish. Two of them you can make yourself, the other's you can purchase from this great website Zazzle, that allows you to personalize almost anything you can imagine.
We will start with Zazzle and then move on to the super simple DIY Father's day appreciation gift that is sure to bring a smile to any dad's face.
Zazzle is a website that allows you to personalize a very large variety of things. They have mugs, aprons, poker chips, USB drive, golf balls, baseballs and much more!
Here are a few of my favorites for Dad! (Clink the photo for more information or to order)
For the cook:
For the hat lover:
For the Musician:
For the coffee lover:
For the technology lover:
There are a lot more ideas on Zazzle, but I don't have the room to list them all. You should go check them out for yourself and find the perfect gift for your dad or make one of our super simple DIY gifts below.
Our DIY gift only requires you to purchase candy and a jar of some sort unless you have one sitting around the house and an instant download from Etsy, to print at home and decorate your jar.
Jar #1: We love you to pieces or I love you to pieces (Purchase)
Supplies needed:
Jar #2: You're a peach! (***Please note the typo on the tag for "You're a peach" has been fixed in the downloads 6/16/17)
Supplies needed:
NEW!!! Jar #3: You're a Barrel of fun (Purchase)
Supplies needed:
The steps to complete this project don't take much time at all.
Step One: Print your instant download and trim to size
Step Two: Fill your jar with the appropriate candy and close with lid
Step Three: Tape or glue your jar wrap around your jar
(***Please note the typo on the tag for "You're a peach" has been fixed in the downloads 6/16/17)
Step Four: Punch a hole in your gift tag and attach it to the top of your jar with string or twine
And you're done! Your Father's Day gift is ready to go, with little money, time and stress spent on the project! Also check out our other Father's Day labels on Etsy. (Click the pictures below for more details.)
Enjoy the holiday and celebrate your dad!
Yes, I know, Thanksgiving has not even been celebrated yet! But if you don't start thinking about Christmas gifts now, the next thing you know it will be December and you will be running out of time. You will really be out of time if you want to give handmade gifts. So, even though it's early, let's get started! Who knows, maybe you will have all your gifts done before Thanksgiving and you can just look forward to enjoying the hustle and the bustle of the holiday season without the stress of shopping at the busiest time of the year!
I know I always say I am going to start early this year and then it never happens. Well, I am hoping to change that this year and I hope this list of creative gift ideas will help you change that too! Some of these items will be things you can make yourself and some of them will be beautiful finds on Etsy! I love finding a few of my gifts each year on Etsy (www.etsy.com), because I truly believe that Etsy provides an avenue to find a gift the perfectly fits the person you are giving it too. Etsy may not have something for every single person in your life, but I do believe you can find at least one of your gifts there and also enjoy the idea of shopping small and supporting those who pour their time and energy into making something unique. I challenge you to find at least one gift on Etsy this year for someone special in your life. Okay, back to the list!
Handmade note cards: Make them yourself with wonderful instant downloads from Etsy or purchase completed notecards. A few of my favorite Etsy shops for purchasing completed cards are: CreationsKMP (www.etsy.com/shop/creationsKMP), HeartsEase2 (www.etsy.com/shop/HeartsEase2), or BlueVioletSentiment (www.etsy.com/shop/BlueVioletSentiments). To purchase instant downloads to create your own notecards try these stores: pointandpoem (www.etsy.com/shop/pointandpoem) or dariakonik (www.etsy.com/shop/dariakonik). These are just a few of the shops I found on Etsy that supply clipart or notecards, there are many more to be discovered.
Mason Jar Gifts: Mason jars can be used in a variety of ways at Christmas for gifts. A few ideas that come to mind are, cookie mix, hot cocoa mix, quick bread mix, an assortment of favorite candy or nuts, beauty products, art supplies and much more. Decorate your mason jar with one of these free mason jar wraps (Download here, 10 inch or 14 inch) or purchase a mason jar wrap from my Etsy store (www.bethannerickson.etsy.com). My mason jar wraps come in 10 inches or 14 inches, to print the larger size you need to have access to a printer that prints on 11x17 paper.
Unique Jewelry & Engraved Items: Etsy is home to many talented jewelry artists. Shop for beaded earrings, beach glass pendants, engraved sterling bracelets, key chains and everything in between. You are certain to find the perfect piece for the special person in your life. Visit some of these shops to see if they meet your needs: BethAnnErickson (www.bethannerickson.etsy.com), TimArtCreations (www.etsy.com/shop/TimArtCreations) or sweetstonesjewelry (www.etsy.com/shop/sweetstonesjewelry).
Crochet a Scarf: A soft warm scarf is the perfect winter gift and even better if you make it yourself. Don't know how to crochet? Did you know that www.youtube.com has instructional videos for beginners just like yourself . We are heading into the season where you will find yarn on sale at Michaels, Hobby Lobby and other craft stores, making this gift idea very affordable. So why not pick up some yarn today and try out a beginner's video. I watched this video myself and found it very easy to follow. (Beginners Crochet Project) (https://www.youtube.com/watch?v=Gx6oEOxOekI)
Baked Goods: We all spend time in the kitchen at the holidays, cooking and baking so we usually have the supplies we need on hand. Why not put some of that time baking to use finishing up your holiday gifts. Holiday tins are easy to find this time of year at Walmart, Fred Meyer and any craft store, along with holiday themed parchment paper. A few supplies and some time in the kitchen and you have some tasty holiday gifts that are sure to please. They are perfect for that one person in your life who is difficult to figure out what to give.
Some other affordable gift ideas are homemade candles, hand-painted kitchen utensils or a handmade Christmas tree decoration. I am sure I could come up with many more ideas for you, but I think this list will get you started. Etsy is a great resource for handmade gifts if you don't have the time or inclination to make them yourself.
If you have an idea but are not sure how to accomplish it feel free to contact me and I will see if I can help. Good luck with your Christmas shopping!
Make sure to stop by my Etsy store, www.bethannerickson.etsy.com or my Zazzle store, www.zazzle.com/EricksonDesigns to see what other wonderful items we have for sale!