Guest Post by Shelini Kalladeen (www.smarteamom.com)
It's been way too long since I've been involved in a giveaway, so when the perfect opportunity came along to collaborate I was super excited. The giveaway collection of items hit a few really important points - first, some good tea blends to either start or finish your day, second, eco-friendly options to share with fellow tea lovers, and third, something fun and sweet to add to your tea time experience. Let's start by setting the stage. There are many ways to enjoy teas, whether you prefer tea bags or loose leaf tea. While I use both, I would say the good majority of my tea stash is loose leaf tea, for a variety of reasons. Generally, you get a better value with loose leaf tea and you can control the intensity of your brew. Having said that, there are also many ways to infuse tea as we know. I've used various teapots, infusers, and disposable tea bags. Today I'm presenting yet another option to you with these adorable handmade, eco-friendly, reusable 100% muslin cotton tea bags made by Beth Ann Erickson Designs. They come packaged with an optional carrying case or as part of a gift set and are super easy to use. I've already easily washed and reused mine several times. My recommendation with using these is that you use a teaspoon or smaller scoop to put in your loose tea into the bag to avoid spillage and to make sure you leave room for your tea to expand. I used mine for both an herbal blend and a chai, and the tea bags steeped them perfectly, with minimal leaf spillage. The button detail on these tag bags is also super cute and very homey and cozy. Give these a shot, or consider them as a gift for the tea lover in your life! The designer, Beth Ann Erickson, lives a life with a passion for creativity. Her most recent passion is to create eco-friendly, zero waste products (such as these tea bags) that improve the lives of her customers and help care for the earth.
Next, the honey! I've used honey sticks before and enjoyed them, but the assortment of flavors offered by Sweet Summer Farms is amazing! Flavors such as mango, root beer, and caramel were really unique, and the boys and I had so much fun trying them. I'd recommend using the flavors to complement the tea you are using, so the chocolate with a black tea would be amazing, or the lemon with an herbal blend to enhance those flavors. It's such a fun mix of flavors, I'd gladly get these again for the fun and variety. The honey sticks are 100% natural, gluten-free, and kosher. Each stick is 1 oz and approximately 15 calories of amazing nutrition and fun flavor! What's even cooler about this purchase is 10% of proceeds go to first responders for PTSD through horse therapy.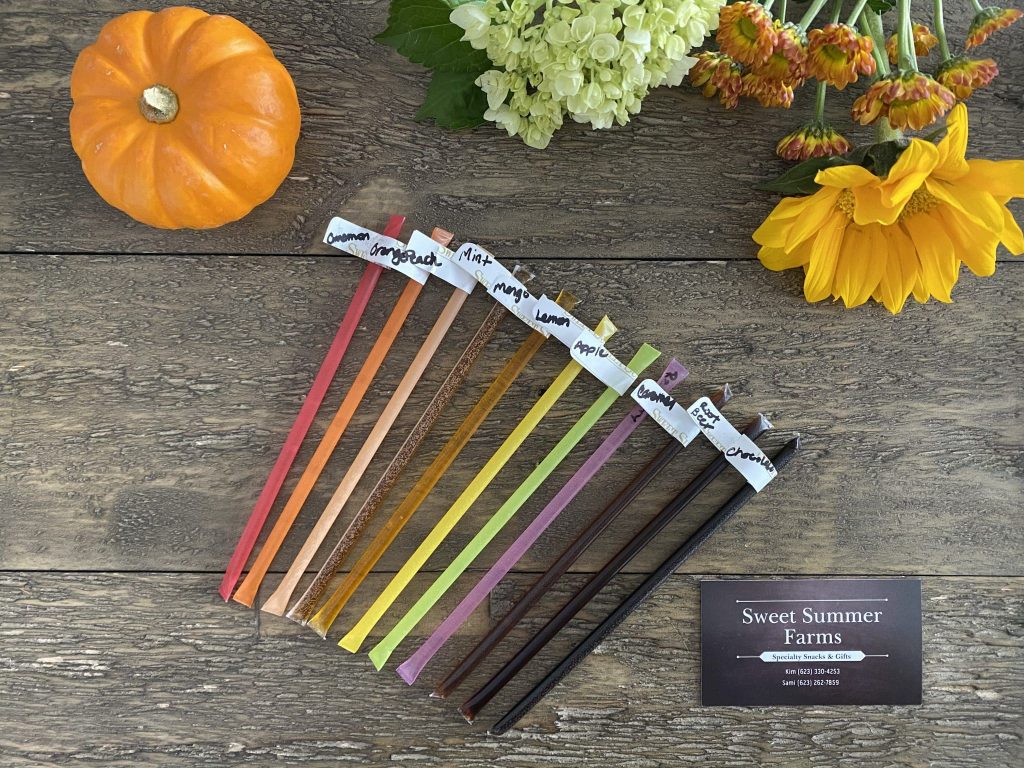 Now that the stage is set, onwards to tea. I started my day with a very flavorful chai by Infinitea Herbal Blends. The blend is a black tea base with cardamom, clove, black peppercorn, ginger, and cinnamon. I could taste each of those ingredients in this robust blend - and I loved it! The clove is strong in this blend, and I think it would hold up to milk really nicely if that's how you enjoy your tea. For me, a drop of honey set this right where I needed to be - fragrant, hot, and a bold way to start the day! I love that you can see all of the whole spices in this tea and that there are no artificial flavors.
To close the day, I sipped on Infinitea Herbal Blends - Deep Sleep Herbal tea. The tea contains chamomile flowers, lavender buds, passionflower, valerian, skullcap, and peppermint. Once again, I think this blend was lovely, and I really enjoyed the lavender in this tea. I added a bit of lemon honey and it really elevated all of the herbal flavors as well as added a sweet touch to the cup. Infinitea Herbal Blends is a black, female-owned company based in California, run by a young, ambitious mother in hopes to spread love, presence, and good health. Well done on these blends mama, I'd say mission successful!
I hope each of you enters this fun, fall tea gift set giveaway! I enjoyed each of the products included, and I am sure you will too. Cheers!
Giveaway Details
Win a TEA GIFT SET from @ericksondesigns, @sweetsummmerfarms, and @infinitea_herbal_blends! This gift set contains a mug and reusable eco-friendly tea bags designed by @ericksondesigns, a set of assorted honey sticks from @sweetsummerfarms, Chai, and Deep Sleep Herbal loose-leaf tea from @infinitea_herbal_blends. US residents only.
To Enter follow these steps:
Follow @ericksondesigns
Follow @sweetsummmerfarms
Follow @smarteamom
Follow @infinitea_herbal_blends
Tag two friends in the comments of the post @ericksondesigns
AND LAST: Fill out the form at (Link in @ericksondesigns bio) to have your name entered in the drawing https://bethericksondesigns.com/tea-gift-set-giveaway/ (Email address for mailing list is optional)
The contest is open from September 27- October 3, 2020. The winner will be announced on October 7, 2020. Only one entry per participant. You must complete all the steps to qualify for the giveaway. The winner will be chosen randomly and only one winner will be chosen. We will be using a random name picker platform to choose the winner. The winner will be notified via DM. Shipping costs will be paid by Beth Ann Erickson Designs. Prize valued at $41.99, no cash will be given. No purchase necessary.
Per Instagram rules, this promotion is in no way sponsored, administered, or associated with Instagram, Inc. By entering, entrants confirm that they are 13+ years of age, release Instagram of responsibility, and agree to Instagram's terms of use.